If You are a avid follower here..You would know that I am a fan of Professor Matt Strassler's and his awesome Site, the link to which I've included later..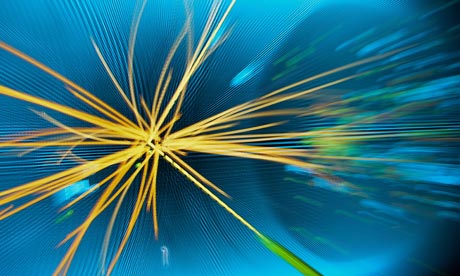 Read an article recent where he has broken a small but Yet Quite important myth related to Gravitation and Higgs..
Now..we know that the Higgs Particle is hypothesized to Give everything in our Universe its mass and we've known since the late 16th century that the force that comes into play between particles in this entirety of ours is Gravitation. So there must be a relation between both Higgs and Gravitation..Isn't it..??
Reasonable Guess but dead False..
The root of this misunderstood concept according to Professor Matt is that..
Professor Matt Strassler
"This statement combines a 17th century notion of gravity, long ago revised, with an overly simplified version of a late-20th century notion of where masses of various particles comes from."
In fact if You ask this Question with a Good backdrop of knowledge in Physics unlike me then You would ask the Question like Professor Matt did..
"Since gravity pulls on things proportional to their combination of their energy and momentum, and since the Higgs field is responsible of giving not everything, just the known elementary particles excepting the Higgs particle itself their mass, there must be a not so obvious connection between the Higgs and gravity…right ?"
Now lets clear this mislead..
In School we learn Newtonian Gravitation where force between two mass is Proportional to
their mass but Einstein revised this notion and established that the force between them will be Proportional to their net energy content when they are travelling in a non-relativistic speed with respect to each other..that means their relative speed is much less than that of the speed of light..
But we know the Famous equation relating 'E' and 'm'..don't we ??..
So for non-relativistic cases these two versions becomes completely consistent to each other..
SOME
OTHER
RECOMMENDED
ARTICLES
FOR
YOU
:
But for cases in which we would have to play with speeds of test subjects with speed near to that of light or in those cases where the objects are subjected to a strong Gravitational Pull..the Einsteinian law of Gravitation involves a complicated combination of momentum and energy equations, in which mass does not explicitly appear and to all fairness in our Universe mass is not at all primary in these 'C' cases rather it's their momentum and energy which wreaks havoc..
And what about the Higgs Particle then ??..
In Popular articles and Press releases written for the Public..You'll often find that Higgs Particle is the one who Gives all other Particle mass..so it's nothing but God itself.
False..as also Matt said in his article..
Let's also establish that..
Its true that, W and Z particles, the quarks, the charged leptons and the neutrinos must get their mass from a Higgs field and they have no other way of getting mass but that is not try for the Higgs Particle itself..
So where does it's mass come from and does it even have a mass ??..
Aaaa..You asked a rather hard Question or in fact Professor Matt ran me into trouble..but seriously..no one has an exact answer for that..and that's what creates the famous 'Hierarchy Problem'. But we can say approximately that the Higgs Particle does not have a single, simple, understood source of it's mass.
But it's for sure..Higgs field is not a Universal Caretaker of Mass. Take Dark matter for example..which consist the most Part of our Unobservable Universe..it's almost for sure..Higgs field is not the single source of it's enormous if not anomalous mass. Also take our homely atoms of any element You like. Mass of it comes mostly from it's nucleus..and does Higgs field contributes the total of that's nucleus' mass itself..well that's what Matt had to say..
"The majority of the mass of an atom is its nucleus, not its lightweight electrons on the outside. And nuclei are made from protons and neutrons — bags of imprisoned or "confined" quarks, antiquarks and gluons. These quarks, antiquarks and gluons go roaring around inside their little prison at very high speeds, and the masses of the proton and neutron are as much due to those energies, and to the energy that is needed to trap the quarks etc. inside the bag, as it is due to the masses of the quarks and antiquarks contained within the bag. So the proton's and neutron's masses do not come predominantly from the Higgs field."
So no matter from which Frame of reference You look from..Higgs Field is not a Universal Giver of mass by any means. But Yes it's crucial to hold the most elementary Particles around us nice and strong..but if there would have been no Higgs..still there would be as much Gravitational Physics discussed as it is done now. But of course there is no certainty that we humans would have been here or not..but maybe some other kind of being..
So..that's all for today !!! Thanx a lot for Your time..
A LITTLE REQUEST
: IF U FOUND IT INFORMATIVE..PLZ SHARE IT !!